December 23rd, Thurs in Osaka, Michael Jackson's Legacy "The EARTH SONG"
On Thursday December 23rd, Kenichi will perform in a dance theater show, "The EARTH SONG", a tribute to Michael Jackson's legacy, LOVE to the earth.  With many Michael's songs, various style of dancers and performers will express what Michael wanted to tell us about the earth.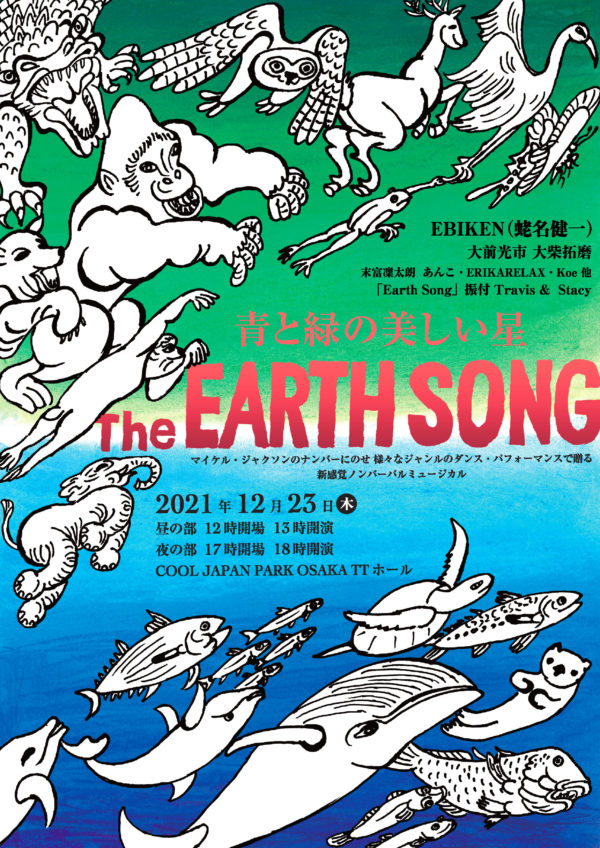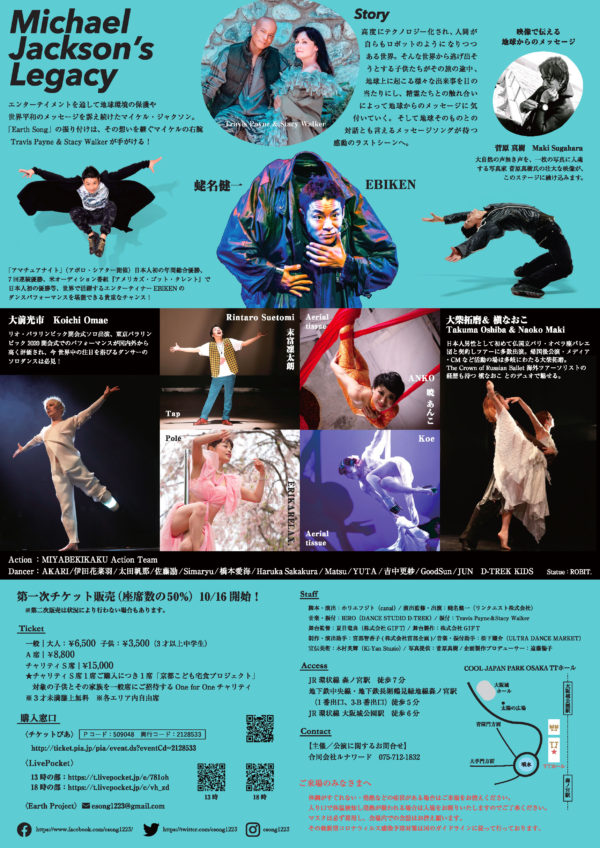 Michael Jackson's Legacy
「The EARTH SONG」
【DATE】2021.12.23(Thursday)13:00〜/18:00〜
*Open an hour prior
【VENUE】
COOL JAPAN PARK OSAKA TT Hall
【TICKET】
General:Adult ¥6500 Children¥3500(3 yrs old up to Middle school)*2 yrs old and younger Free)
A seat:¥8800
Charity S seat:¥15000
* Buy One seat, donate one charity seat that invites children and their families to the general seats for the "Kyoto Children's Home Food Project"
* Unreserved seats in the area
【HOW TO BUY TICKETS】
● Ticket Pia ・ P code: 509048 ・ Boxing code: 2128533
● Live pocket
13:00: https://t.livepocket.jp/e/781oh
18:00: https://t.livepocket.jp/e/vh_zd
● Erath Project esong1223@gmail.com
【STORY】
A world that is highly technologicalized and humans are becoming like robots themselves. During the journey, children trying to escape from such a world, they witness various events that occur on the earth and notice the message from the earth by interacting with the spirits. And at the last scene where a message song that can be said to be a dialogue with the earth itself awaits.
【MUISC】
Including the theme "Earth Song", Michael Jackson's songs that have continued to appeal for the protection of the global environment and the message of world peace. 
【CAST】
Kenichi Ebina (Dance-ish performer)
Koichi Omae (Prosthetic leg dancer)
Takuma Oshiba & Naoko Maki (Classic Ballet)
Rintaro Suetomi (Tap dancer)
Anko & Koe (Aerial)
ERIKARELAX(Pole dancer)
MIYABEKIKAKU ActionTeam(Acrobats)
Emsemble Dancers
【Choreographer / Video message appearance】
As a special guest, Travis Payne who choregraphed Michael Jackson's song and Stacy Walker who worked for Michael Jackson as a back dancer will choreograph "Earth Song", which is the main theme of this show.
【PRODUCTION STAFF】
Story, Director  Fujito Horie(canal)
Direction Advisor・Cast Kenichi Ebina (LinQuest, Inc.)
Music, Choreography   HIRO (DANCE STUDIO D-TREK)
「Earth Song」choreography  Travis Payne&Stacy Walker
Stage Manager  Tatsunori Natsume(GIFT)
Stage production  GIFT
Assistant production and direction  Chikako Miyabe (Miyabe Planning)
Assistant music and choreography  Yosuke Matsushita (ULTRA DANCE MARKET)
Graphic design on promotion Hideki Kimura(Ki-yan Studio)
Photo slide  Masaki Sugawara 
Executive Producer Nobuko Endo(Lunaword)
●Facebook page
●Twitter
●Instagram
【CONTACT】
Lunaword Ltd. Earth project
esong1223@gmail.com